Standard containers

Standard containers are multifunctional and are suitable for all types of general cargo. Depending on the presence of container doors, they can be divided:
Container with doors at one / both ends (on the short side).

Container with doors at one / both ends, as well as side ones along the entire length on one / both sides (on the long side).

Container with a door at one / both ends and a door at one / both of its long sides

.
According to their size, the containers are:
20'DV (Dry Van) Standard 20 '(ft) container - this is the most common type of container, which is considered the basic unit of measurement in container transport 1 TEU (Twenty Foot Equivalent Unit).
40'DV(Dry Van) Standard 40 'container - accepted for 2 TEU.
40' High Cube Standard - higher than standard containers.
(OTC) Open top container
Open Top 40 '/ 20' foot container - The top of the container has a tarpaulin. Suitable for tall loads and those that require loading with a crane on top.
(FRC) Flat Rack container
Flat Rack 20' container (FRC)/40'– These containers are a wooden platform playing the role of a floor, around of it there is a metal frame to which walls are attached at both ends. To ensure the transport of goods with such containers, safety ropes and side beams are used. Suitable for heavy and oversized loads.
(Reefer Container) Refrigerated
Refrigerated 20' (RС)/40' – This type of containers are suitable for transporting goods that require a temperature regime. The container can be cooled by means of nitrogen or carbon dioxide and temperature relays or by a special system integrated in the container, which, however, is limited by the place of loading.
Container ship (sea transport)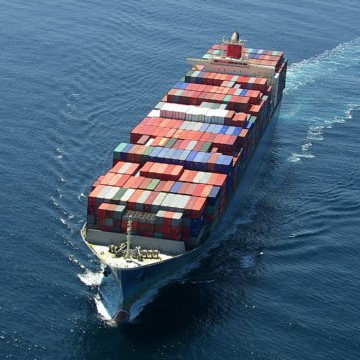 Container ship (land transport)